Moderator: Izhar
Posts: 315
Joined: October 14th, 2014, 2:11 am
Country: Pakistan
City: Lahore
Gardening Interests: New Varieties and plant growth and propagation techniques
---
Moderator

Posts: 4340
Joined: April 11th, 2011, 9:38 am
Country: Pakistan
City: Karachi
Gardening Interests: Fragrant plants, shade gardening, bulbous plants, annuals
Location: Karachi, Sindh
---
Posts: 315
Joined: October 14th, 2014, 2:11 am
Country: Pakistan
City: Lahore
Gardening Interests: New Varieties and plant growth and propagation techniques
---
Moderator

Posts: 4340
Joined: April 11th, 2011, 9:38 am
Country: Pakistan
City: Karachi
Gardening Interests: Fragrant plants, shade gardening, bulbous plants, annuals
Location: Karachi, Sindh
army worm... emamectin benzoate
---
Posts: 315
Joined: October 14th, 2014, 2:11 am
Country: Pakistan
City: Lahore
Gardening Interests: New Varieties and plant growth and propagation techniques
Izhar wrote:army worm... emamectin benzoate
I sprayed with Imidacloprid two days earlier and I think it worked. Is it good or shall i use Emamection Benzoate also
Sent from my iPhone using Tapatalk
---
Posts: 52
Joined: July 3rd, 2015, 7:07 pm
Country: Pakistan
City: Okara
Gardening Interests: Flowering shrubs and trees
Imidacloprid is for sucking pests mainly, for chewing (like you are facing) use Byren's Belt:
http://www.iraq.cropscience.bayer.com/e ... ductslider
Its recently banned in America though, and Byren's American webpage had ton of information like detailed 200+ pests and how use Belt on them, so I hope above link will do job for you.
---
Posts: 315
Joined: October 14th, 2014, 2:11 am
Country: Pakistan
City: Lahore
Gardening Interests: New Varieties and plant growth and propagation techniques
A disease observed in ' Raat ki Rani (Cestrum nocturnum)' and not in anyother plant in garden. This is 2nd plant that got this disease. The other one was also planted here but I had to remove it and started this one fresh but it is also got attacked by the same disease. It has made the plant ugly and highly hampered its ability to flower. Imidacloprid and Polytrin-c of Syngenta are regularly sprayed on this plant as they are sprayed to roses.
Members are requested to identify disease and suggest remedy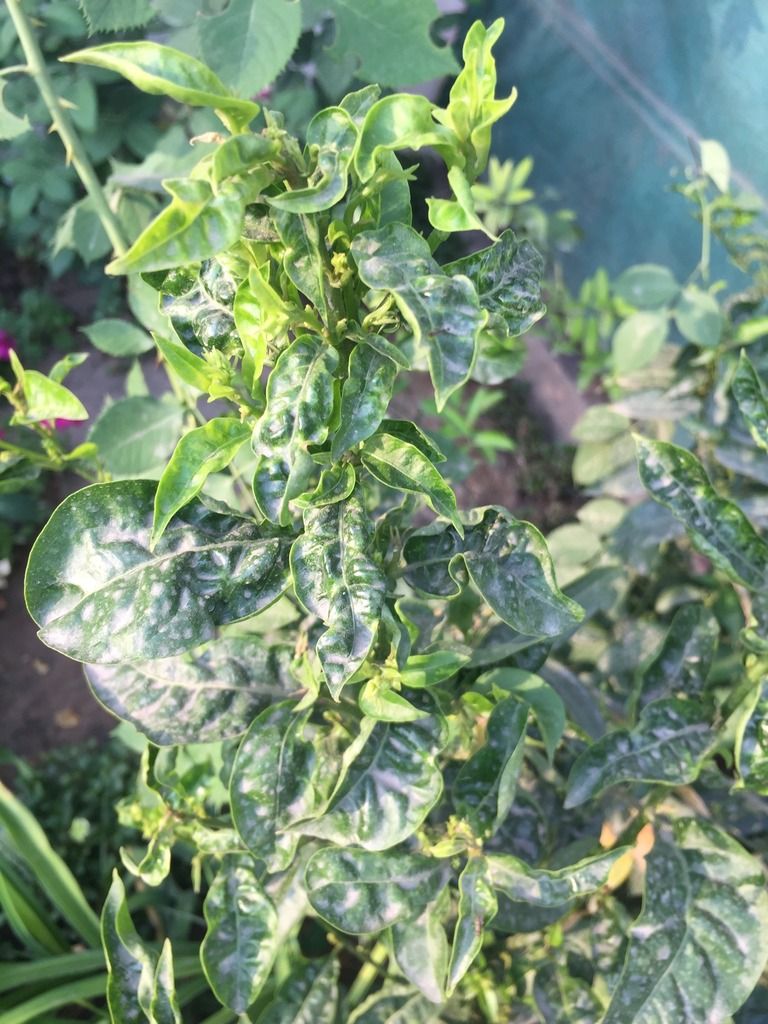 ---
Moderator

Posts: 4340
Joined: April 11th, 2011, 9:38 am
Country: Pakistan
City: Karachi
Gardening Interests: Fragrant plants, shade gardening, bulbous plants, annuals
Location: Karachi, Sindh
Broad mites... use Oberon of Bayer or Nissorun of Arysta....
---
Posts: 315
Joined: October 14th, 2014, 2:11 am
Country: Pakistan
City: Lahore
Gardening Interests: New Varieties and plant growth and propagation techniques
Thanx Again


Sent from my iPhone using Tapatalk
---