Climate
Tomatoes grow best under moderate temperatures. Fruit setting is poor when average temperatures exceed 32°C or fall below 10°C. Tomatoes cannot withstand frost. Frost can damage or destroy your tomato plants. Humidity is an important factor. Humidity levels higher than 60% will increase disease problems.
Planting Site
Tomatoes like a nice warm area in full sun, and need at more than 6 hours of sunlight a day, or they get spindly and produce little mature fruit. Optimum soil pH for tomato is 6.0 to 7.0
Season
Due to varying climatic conditions, there is a wide range of sowing seasons for tomato in Pakistan.
Early crop
Sowing: July-August
Transplant: after four or five weeks
First harvest: 60-70 days after transplant
Fall sowing
Sowing: September
Transplant: after four or five weeks
First harvest: 60-70 days after transplant
Note: This season is not for those areas where frost occurs in December.
Summer crop
Sowing: December, January
Transplant: after five or six weeks
First harvest: 50-60 days after transplant
Note: In frost occurring areas protect your seedling from frost with the help of plastic sheet covering & transplant after no danger of frost.
Keeping in mind the climate for tomatoes, you can plan your own season for example in Karachi tomatoes can be sown in October, November & Feb, March which will give you fruit in those months when there is shortage of tomatoes. The best planning for home gardeners in Karachi is to start from July & prepare some seedlings of tomatoes each month till March, which will give you a long & continuous supply of tomatoes.
Growing Seedlings
Growing media for seedlings is a mix of farm yard manure, soil and sand with the ratio of 1:1:1. Cover your seeds with transparent polythene sheet till germination. The seeds will germinate in 7-14 days.
Transplanting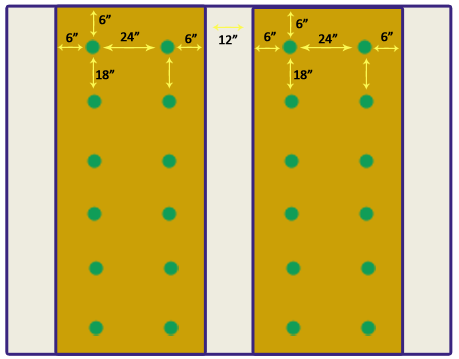 The seedlings should be hardened to withstand the out-door conditions with as little shock as possible. The hardening may be accomplished by lessening water supply. The process may require 7 to 10 days. Transplant four or five week old seedlings on the both sides of 36 inch wide & 4 to 6 inch high beds with a distance of 24 to 30 inch on the rows & 18 inch b/w plants. Transplant seedlings in the evening.
Watering
The first watering is given immediately after transplanting.Afterwards subsequent irrigation at an interval of 7-8 days is recommended. The irrigation interval can be decreased from 5-6 days when weather is too hot. Irrigation water should be given with care so that beds should not be submerged into water.
Fertilizing
A high-nitrogen fertilizer will help the plant start off well, but as soon as the plant is off to a good start, the best fertilizer ratio is low on nitrogen, medium phosphorous and high on potassium.
Harvesting
Harvesting tomatoes at the right time means you get fantastic flavor. Fully-ripened fruit tastes much better than fruit picked early.
Tomato Plant Types
Determinate tomatoes
bear their crop all at once, while
indeterminate tomatoes
bear fruit over the course of a season. Indeterminate varieties tend to grow longer vines and will require more support in terms of staking or caging over the course of a season. Determinate varieties often tend to be more compact and manageable.
credit:
http://organicgardening.about.com/od/ve ... aq.htm&#41
;
Recommended varieties for Pakistan
Indeterminate varieties are best for containers.
Moneymaker (Container Variety)
Indeterminate, Maturity 80 days, Red round-shaped. Does well under humid conditions
Rio Grande (Fall sowing variety)
Maturity 75 days, Determinate, Disease Resistant
Roma VF (Early season & spring sowing variety)
Maturity 75 days, determinate, Plant height 4 feet, Red Plum shaped
Tropic (Early season & spring sowing variety)
80 days, Indeterminate, Highly recommended for those areas that are hot and humid and prone to disease.