Botanical Name
Calendula officinalis
Family
Asteraceae
Genus
Calendula
Specie
C. officinalis
Local Name in Urdu

گل اشرفی

Common Name
calendula_pot marigold_ruddles_garden marigold
Life Cycle
Annuals
Cultivar Name
Fragrant or Not
no
Category(Bush/Vine/Tree)
annual plant
Height
12-20 in.
Spacing
6-9 in.
Flowering Months
spring
Flower Color
Orange
Bright Yellow
Growing Areas
all Pakistan
Frost Tender
yes
Exposure
full sun
Soil pH
tolerent
Propagation
by seeds
Uses
ornamental ,medicinal plant
Other Details
Calendula officinalis is widely cultivated and can be grown easily in sunny locations in most kinds of soils. Although perennial, it is commonly treated as an annual, particularly in colder regions where its winter survival is poor, or in hot summer locations where it also does not survive.Calendula are considered by many gardening experts as among the easiest and most versatile flowers to grow in a garden, especially since they tolerate most soils. In temperate climates,Leaves are spirally arranged, 5–18 cm long, simple, and slightly hairy. The flower heads range from pastel yellow to deep orange, and are 3–7 cm across, with both ray florets and disc florets.Pot marigold florets are considered edible. They are often used to add color to salads, or added to dishes as a garnish and in lieu of saffron. The leaves are edible but are often not palatable. They have a history of use as a potherb and in salads.
Image courtesy Farhan ahmad(gardening Pakistan)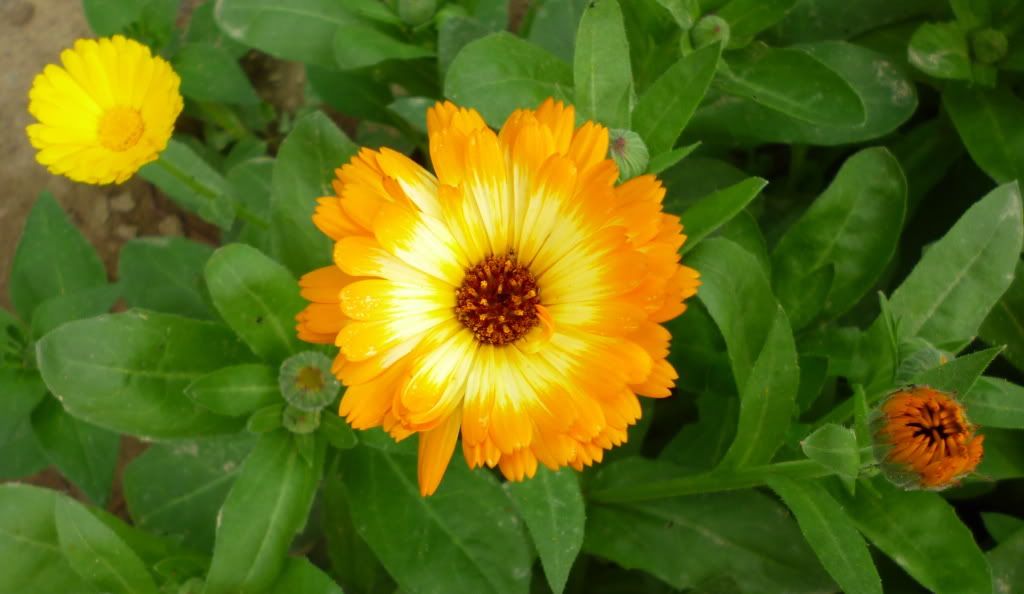 Calendula Nana Fruit Twist by Farhan Ahmad