Staking
Another important gardening technique is Staking. This aims to support plants which are taller, lanky or top heavy causing them to flop over, thereby avoiding damage or uprooting.
Factors that make plants fall/flop/bend
Heavy top plants such as because of the weight of large flowers.
Lanky or un-pinched plants.
Taller varieties of plants
High Winds
Rain. It can loosen the soil causing plant to flop or make them top heavy.
What you can do to avoid plants falling over
Pinch Plants to make them bushier and able to support their own weight.
Grow taller varieties against some support (wall/fence).
High wind protection, such as fences/shelters etc.
Do not hoe if rain or high winds are expected.
In case of high wind or rain, make elevated soil base to support plants.
Prefer dwarf varieties as in fashion.
How to Stake
Even after above mentioned steps/or the absence of them, some plants will fall over especially if they are taller cultivars. Staking can be as simple as support a plant with a reasonable size stick and a rope or perimeter type for mass planted annuals. You can also use Y-shape twigs of trees. Commercial staking bands/sticks are also available in market.
Stuff required
Rope (strength dependent on plant size)
Sticks
Scissors & common sense to not to damage the plant in the process.
Following are some methods for staking plants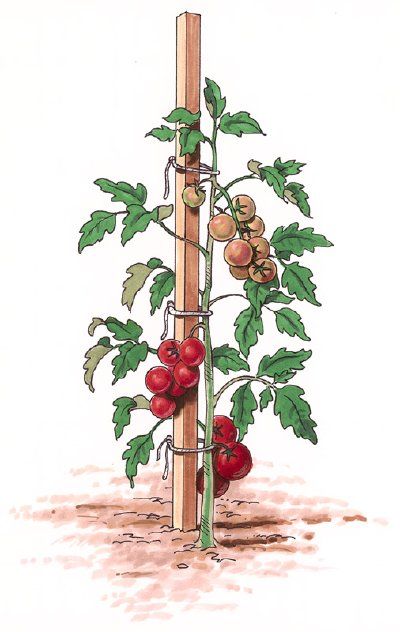 Annuals that require staking
Snapdragons (medium/tall cultivars), Helichrysum, Sunflowers, Dimorphotheca, Osteospermum plant, Hollyhock (sometimes), Phlox, Larkspur, Linum Grandiflora. Chrysanthemum carinatum, Candytuft, Carnation, Salvia (sometimes), Gaillardia (sometimes), Vegetables such as Tomatoes.
Some Perennials
Indian Dahlia and Chrysanthemums
Caution
Do not tighten the rope too much around the stem. Stem should be able to move easily within the rope. Meaning by, its better to have rope going round in figure of 8 around stem, rather than tying knot on the stem.
Put the stick 3-4 inches away from the base of plant to avoid damage to roots.
Stake/stick should match/slightly bigger the size of plant. Small is of no use and longer will look bad, however do keep in mind future growth of plant.